Okay, when I went to Europe, I sent out emails at various points during my trip. This is a compilation of those emails.
Put your cursor over the pictures to read the captions.
London-Nottingham Nottingham-Scotland-Dublin Dublin-London-Amsterdam
Amsterdam-Prague-Interlaken Interlaken-Paris-London
-------------------------------------------------------------------------------------------------
June 1, 1999 (Top)
Subject: Greetings from Nottingham

Hey everyone! I'm in Nottingham, England right now visiting a friend. Heather and I have been having a WONDERFUL time! We arrive on Sunday afternoon. We got everything settled in the hotel and took showers, then went to Leicester Square with my friend Ryan, from high school who lives in London now. Ryan actually met us at the airport and showed us how to take the tube to our hotel and hung out with us all night. We ate at the Planet Hollywood in London that night.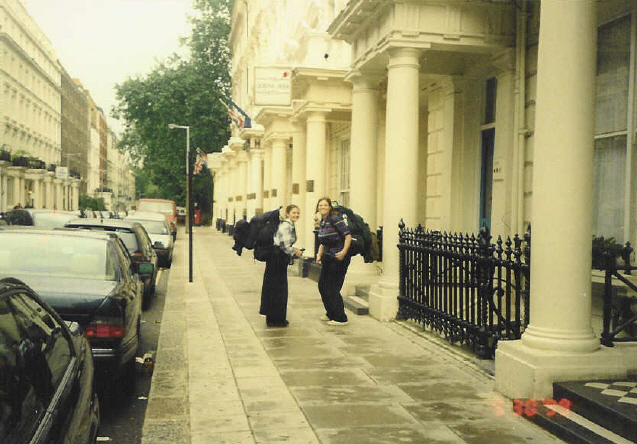 Monday we went to Highgate Cemetery, which is beautiful and it sits on top of a hill. Karl Marx and Charles Dickens are buried there. Then we to the Tower of London, then to some small church called St. Giles in the financial district of London (which was completely empty because apparently Monday was a holiday for England) where John Milton (author of Paradise Lost) is buried. Then we went back to our hotel to get dressed for a play. We were going to eat at the Hard Rock in London before the play, but there was a gas leak by our hotel, so the Tube stations (subway stations) by us were closed, so we had to walk a bit and get lost and made it to the play ten minutes late. Fortunately, we didn't miss much. We saw Phantom of the Opera (which I had never seen before). It was spectacular! Then we went to the Hard Rock in London and caught the very last Tube routes for the day back to our hotel.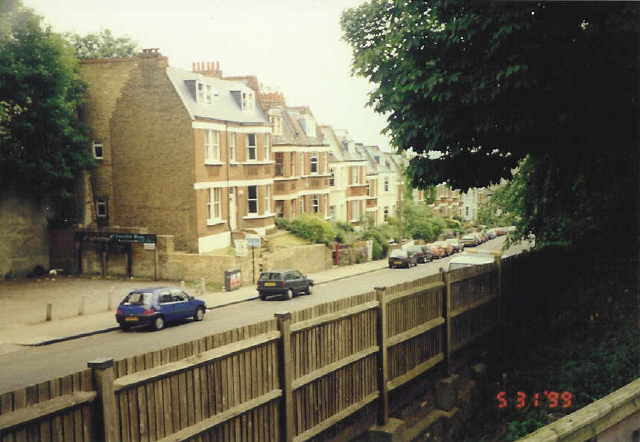 Today was pretty busy. We checked out of our hotel, went to see Big Ben, Trafalgar Square, and Buckingham Palace (with our huge backpacks and all), then took a train to Nottingham, where my friend picked us up.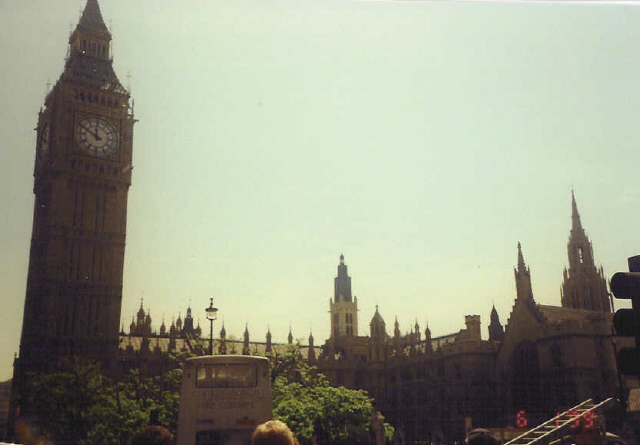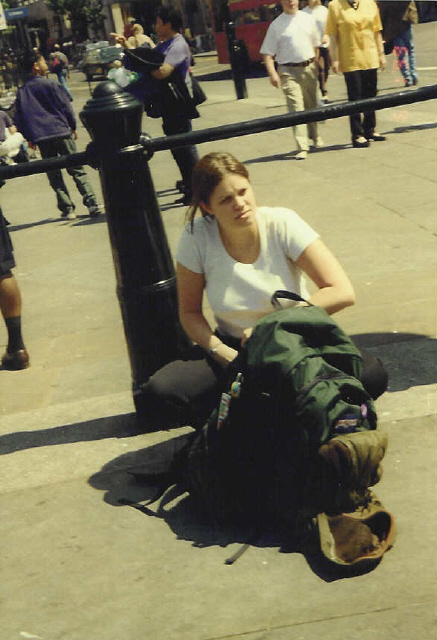 We went around the mall out here, bought a couple CD's, but then back to his place because everything closes around 5 or 6pm out here. We ate at his place, then went to three English pubs (one dating back to 1240 and had cellars and caves underneath it which are supposed to be haunted by a four year old girl named Rosie, we got a tour of those), then we went to a club out here, which was really neat. Apparently it was a slow night for them, but Heather and I thought it was awesome.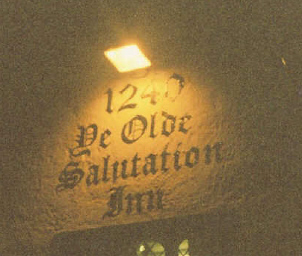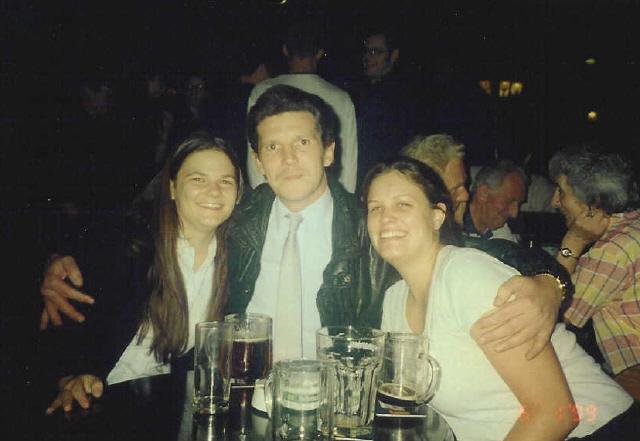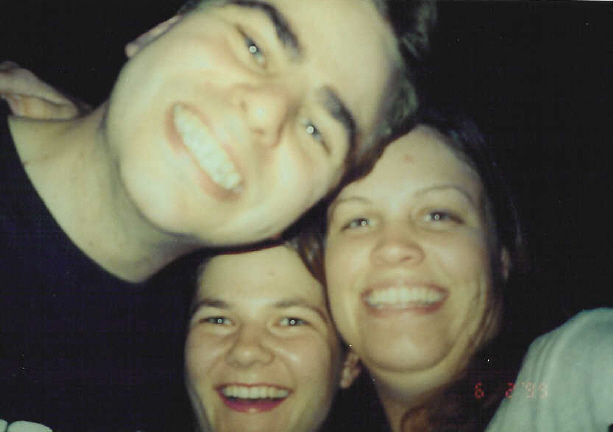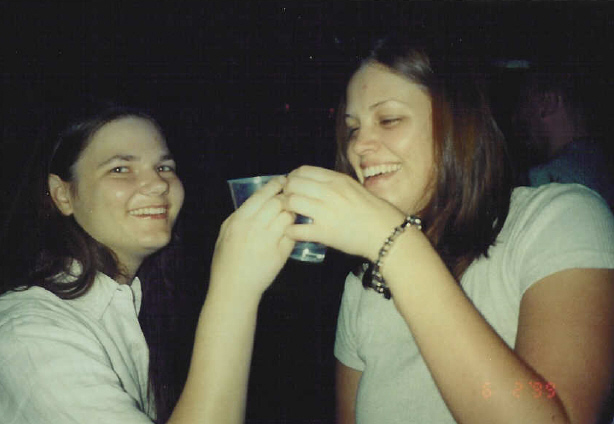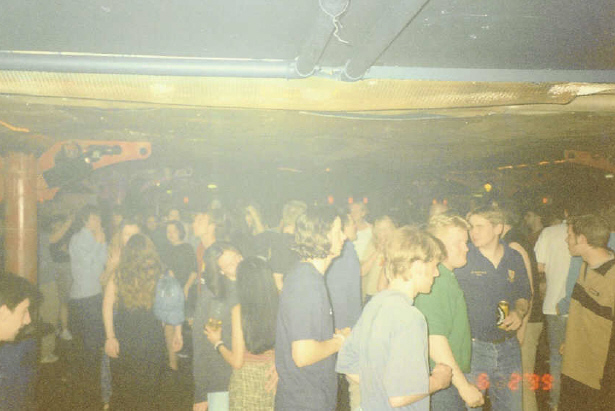 Tomorrow, we're going to see more of Nottingham. It has caves and a castle and I think dungeons, although I'll find that out tomorrow.
I better get back downstairs because Heather and Craig are probably wondering what's keeping me so long. I'll write later if I can!
-Becky
Top >>>Nottingham-Scotland-Dublin Dublin-London-Amsterdam Amsterdam-Prague-Interlaken Interlaken-Paris-London
-------------------------------------------------------------------------------------------------
June 4, 1999 (Top)
Subject: In Dublin now

Hey everyone! Heather and I are at a hostel in Dublin now. We're trying to catch up on sleep as we've had a busy couple days. She's asleep now, I'll go to bed shortly.
I believe I left off at Tuesday night. Well Wednesday, June 2, we spent the whole day in Nottingham with my friend Craig. We slept in til about 11am because we had stayed up all night Tuesday just talking until about 4am. It was nice. So Wednesday, we walked around town in the rain, went to some caves below the mall (apparently the whole city is built on top of caves!), walked to the Nottingham Castle, but it was closed so we couldn't walk inside but we walked a little bit outside. Went back to Craig's house. Then ate dinner at a Mexican restaurant in England because Heather was dying to find out how the English make Mexican food. It's a bit different, but still good. Then we made it an early night because we had to wake up at 5am to catch a train. Oh, we also bought the sound track to "Blood Brother" since it can't be found in the U.S.
Thursday, June 3: Caught a train from Nottingham to Edinburgh at 6:30am. Stormed Edinburgh Castle, took a train to Glasgow and stayed our first night in a hostel. We saw Braulio's twin in Edinburgh. Same leather jacket, thick black hair in a ponytail, even the same walk. I didn't see his face, but Heather did since she's the one who spotted him, and she says she thought it actually was Braulio at first! Oh, we ate at this place called Bar Ce Lona in Glasgow. Excellent food! We love the Scots! They are such nice people. They were busy and it was taking a long time for the food to get to us, so they just whipped up a small appetizer and gave it to us without warning and free of charge!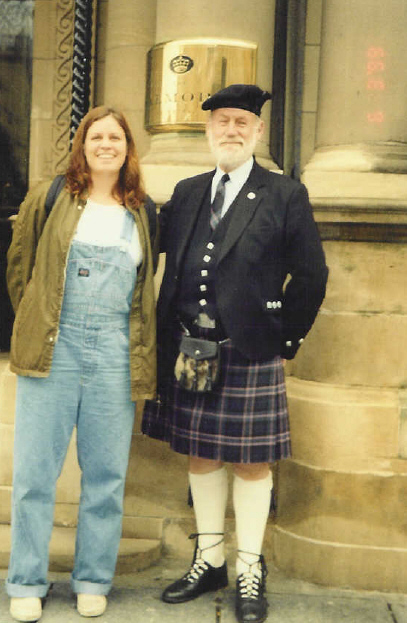 Friday (today), June 4: Woke up at 5:30am, walked to the train station, we missed the train that would take us to one of the other train stations in Glasgow in time for our train to Stranraer, so we took a taxi, hopped on the train to Stranraer, then hopped on the ferry to Belfast. Missed the bus that takes us to the train station, so we grabbed a taxi, but missed our train to Dublin, so we caught the next one an hour and a half later. Arrived in Dublin, found a hostel, went to eat, Heather went to bed. I've been on the phone trying to get train schedules and such for the next couple days because we want to be in Amsterdam on Monday and go to Stonehenge first.
We're going to explore Dublin tomorrow, take a ferry to Holyhead, transfer a grip of trains, stay the night in a train station tomorrow night because one of our layovers is 8 hours, and there's no sense in trying to find a hostel or hotel for 8 hours. We'll arrive in Stonehenge about 11:30am on Sunday, stay there for a couple hours, then catch a train to London, stay the night in London. Wake up at the butt-crack of dawn again to catch a 6:15 am Eurostar from London to Brussels (the one that goes through the chunnel). Then we'll go take a train from Brussels to Amsterdam. Spend a while in Amsterdam, then go to a neighboring city to stay the night at another email friend's house. Then we'll play it by ear again. We seem to make our plans only a day in advance; I'm surprised we have our plan mapped out until Monday!
Well, I'm being charged for the use of the Internet, so I'm going to go for now. I enjoy reading your emails, so feel free to write. I may not have much time to respond, but I'll definitely read!
-Becky
Top London-Nottingham >>>Dublin-London-Amsterdam Amsterdam-Prague-Interlaken Interlaken-Paris-London
-------------------------------------------------------------------------------------------------
June 6, 1999 (Top)
Subject: On our way to Amsterdam

Well we didn't have to sleep in a train station. We couldn't get a ferry out Saturday, so we took the first one in the morning on Sunday. The trains weren't running yet (it was 5:45am), so we had to take a taxi there. We stayed in a hostel on the outskirts of Dublin which was really nice. It was in a quiet area on the beach next to an Irish music museum. We shared a room with two girls from San Francisco. It was just really neat and we're glad we had that night to just sit back, relax, and enjoy the atmosphere and scenery.
This morning (Sunday), we took a ferry to Holyhead, Wales. Then took two trains to London. We decided we'll hit Stonehenge on our way back to London shortly before we head back to the States. We got a hostel here which is just across the street from the hotel we stayed at our first two nights here. They still have two suitcases of ours that we are leaving there until we go home on June 20. So we dropped a bunch of stuff (souvenirs and stuff we realized that we brought but didn't need) off in the suitcases. Then we went to Leicester Square, ate at Planet Hollywood and just walked around and soaked up the atmosphere. There's people playing music on every corner. It's really neat! Discovered that my camera no longer works. :( Hopefully, we'll be able to find a decent cheap one in Amsterdam. I can't visit the mainland Europe for two weeks without a working camera, it's just not feasible! *sigh*
We're off to Amsterdam in the morning, again another early morning; we have to catch a taxi at 5:15am this time! We'll be taking the chunnel from London to Brussels, then a train from Brussels to Amsterdam. Tomorrow night, we'll stay at a friend's house about an hour and a half away from Amsterdam. She lives on the beach as well. Talk to you all later.
-Becky
Top London-Nottingham Nottingham-Scotland-Dublin >>>Amsterdam-Prague-Interlaken Interlaken-Paris-London
-------------------------------------------------------------------------------------------------
June 13, 1999 (Top)
Subject: Just Chillin in Switzerland

Hey everyone! Well we left London early in the morning on Monday the 7th via the Eurostar (which goes under through the chunnel) to Brussels. We stayed in Brussels for a couple hours, walked around, bought postcards, then we took a train to Amsterdam. On the train, we met a girl who was at the end of her trip, and she told us about a place called Interlaken, Switzerland, where there are a bunch of adventure things to do. So we rerouted our trip to include Interlaken and Prague because everyone told us we had to go to Prague. We decided to give up Germany and Italy. Once we got to Amsterdam, we walked around the red light district for a bit (yes, everything you`ve heard about Amsterdam is true!). Then we took a train and a trolley to my friend Anneke's house. Stayed the night there, then went shopping to buy towels, film, and a camera. She had to work and we went back to Amsterdam, went to the Hard Rock Cafe there, got our tickets set up to go to Prague, and hung out. We went back to Anneke's that night, walked on the beach the following morning, and bought haggleslaw for Heather. Heather and I went back to Amsterdam, saw Anne Frank's house, then caught an overnight train to Prague.
When we arrived in Prague, we asked for a hostel with either laundry facilities or a private bathroom so we could wash our clothes (it was getting to be about that time!). They reserved one for us, then we went to get money, by the time we came back, it was no longer reserved. The guy felt so bad that he set us up in his aunt's house for the same cost. We got settled, took showers, and went to a museum. We went to a nice restaurant (or at least what looked like a nice restaurant) and all they served was cold cuts, cheese, and butter! On a plate, not a sandwich! So we were disappointed about not being able to eat a full dinner. We went back to where we were staying and did laundry. The next day, we finally found downtown Prague. It was neat looking and had a lot of booths selling stuff (reminded me of Tijuana). We went to a Museum of Torture, and the bridge, and ate at a pizza place where we got a full meal for really cheap. We couldn't figure out what all the hype was about Prague. Yeah, it's pretty, it's cheap. But the people there are rude, especially at the train station. No one there speaks English and no signs are in English. That in itself isn't bad, because we're in their country, we shouldn't expect them to speak English, but it was so hard to find anything or figure anything out. If you tried to ask someone at the train station, they yell at you! Anyway, we left that night for Interlaken.
So we arrived in Interlaken yesterday. Met some people, bought our tickets to go canyoning and paragliding, and just relaxed. The place is so neat! Everyone is American, practically, which is a nice break from going to places that don't speak English. Everyone here is so nice and we do so many adventure things! Today we went canyoning, which I guess is illegal in the US because it's not safe or something, but it was awesome!!! Tomorrow we're going paragliding. Here are some pictures of me canyoning...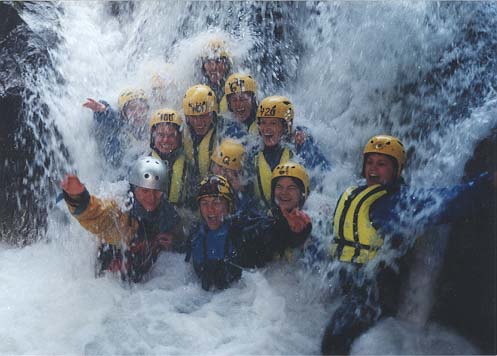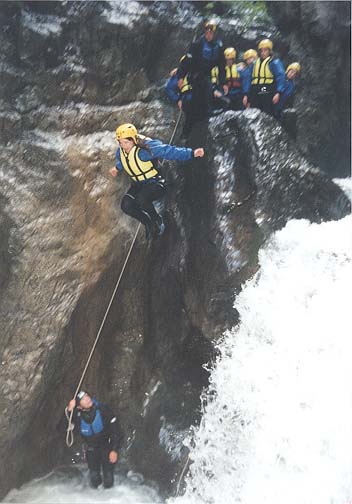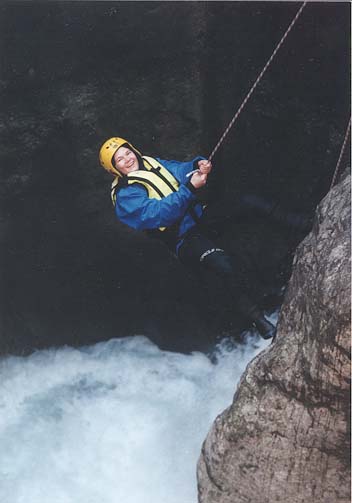 Sorry I didn't have a whole lot of detail, but I have to pay to use this. I haven't read my emails yet. I'm going to do that next. Don't be mad if I don't respond, I just don't know if I'll have time. Talk to you guys later!
-Becky
Top London-Nottingham Nottingham-Scotland-Dublin Dublin-London-Amsterdam >>>Interlaken-Paris-London
-------------------------------------------------------------------------------------------------
June 22, 1999 (Top)
Subject: I'm back

Hey everyone, just letting you know I'm back. I'm working a bunch of overtime the next couple days (I worked a 12.5 hour day yesterday [the day after I got back]), so I'll pretty much just be working and sleeping. I'll let you know how the rest of my trip went toward the end of the week or the weekend...
-Becky
-------------------------------------------------------------------------------------------------
July 12, 1999 (Top)
Subject: Paris

Hey Everyone! I know some of you have emailed me waiting to hear about the end of my trip. Sorry it took so long, I've just been really busy or really tired. But here I am now...
On Monday June 14, Heather and I were still in Switzerland. We had breakfast, then decided to leave that night rather than Tuesday night so we could have an extra day in Paris. So we walked to the train station to change our train tickets. We also decided not to get beds to sleep in on the train since the sleeper train would only be six hours. Then we went back to the hostel and canceled our reservation for beds that night. After that, we went paragliding over the Swiss Alps, which was awesome! It was a little cloudy, but once we were in the air, that didn't matter anymore. It was a bit cold though. After paragliding, we asked the people who worked there where we could find a restaurant that served real Swiss food. The van that carts people back to the hostel dropped us off at a restaurant. The food was yummy! It was a pasta dish. We don't think the people liked us there though because we asked for water (the water is safe to drink is Switzerland) and they gave us soda water (or some form of carbonated water) and we had to have someone next to us translate because they didn't speak any English. They took the bottles of carbonated water away and still charged us for it because they had already opened the bottles. Heather even said tap water when ordering it, but oh well. We went back to the hostel and just hung out a bit, till it was time to pack up our stuff and go. We saw some people whom we had met at the hostel in the train station waiting for the same train as us. Some of them. We had a stop in a city I can't remember the name of at the moment. Half of that group switched trains to Paris with us, the other half went somewhere else (I think Germany). While waiting for the Paris train, we talked to the half of the group and two other people that showed up. They told us what hostel to stay at in Paris because they were at the end of their trip and had already been to Paris. They also told us what we missed in Prague. Apparently there were a lot of tours we could have taken of palaces and other neat stuff that were all in English. Also, if we had stayed in an actual hostel, we would have met people that would have been able to tell us what to see and how to get there. But we needed a laundry facility, so we stayed at that guy's aunt's house. Oh well, we had a unique experience none the less, and now will know what to do next time. On the train, Heather and I were able to take two seats each to sprawl out. After I fell asleep, I kept feeling my leg being grabbed. I would jerk awake every time, and it was this guy sitting in front of me asleep (or so I thought) with his arm hanging out, so I figured he just kept hitting my leg in his sleep, so I just kept kicking it away. Then at one point, he got something to eat and was sitting there wide awake, and I feel my leg being grabbed again. I give him the benefit of the doubt and think it was an accident. So I lay back down, and I feel him touch my butt! So I jerked up and sat up straight. I glared at him, but he was looking away. He left to go to the bathroom and I woke up Heather telling her what happened and that I was moving to another set of seats.
We arrive in Paris on Tuesday June 15 at something like 6 or 7 in the morning. We call Mike's Hostel (the hostel we were told about while waiting for the train), and the guy gives us directions. It was in walking distance. We pay for two beds, but can't check in until noon, so they gave us a map of the city. We went to the cemetery where Jim Morrison is buried, but it's not open until 9am, so we eat at a Paris cafe across the street. Then we go to the cemetery and find out that Frederick Chopin and Oscar Wilde are also buried there. We find those three graves and Heather did rubbings of all three. There's a guard by Jim Morrison's grave and he first told us no, but then Heather asked really nicely and he said okay. We met a girl who had hair spray in her purse so we were able to spray the rubbings so they would set before folding them up. We took lots of pictures of the cemetery (it was beautiful, they put a lot of work into their head stones). Then we took the Metro to the Eiffel Tower. We took pictures of the Eiffel Tower, then took a boat tour of Paris. By that time I was getting very irritable since I hadn't gotten much sleep because of the molester guy on the train and Heather was getting fed up and asked me what I wanted to do. I said we could either go to the Hard Rock then or go back to the hostel and take a nap, then go to the Hard Rock. Heather said she wanted a happy Becky, so we went back to take a nap. (That was the first and only time we ever got on each other's nerves during the whole trip. I think that's pretty good considering we were around each other 24 hours a day for 3 weeks and didn't get to that point until 2 and a half weeks! We decided that we travel well together.) I went to sleep right away and Heather called Les Catacombs to find out where they were located, then she took a nap. We left our alarm clock in Den Haag, so we decided what time we wanted to wake up and whenever I would wake up, I'd look at my watch and if it was after a certain time, I would wake her up. (I hope that sentence made sense.) We woke up, took showers, and met the girls who shared a room with us. They were from...I can't remember the name of the country, I'll have to call Heather and ask her. We discovered throughout our stay in Paris that these girls didn't see Paris at all, they just partied in the hostel. Can you imagine being in Paris and not venturing out in it at all? They even asked us, "You don't go to the courtyard [of the hostel] much, do you?" We finally got to the Hard Rock around 9pm or so (I think). We didn't get seated until around 10pm, and didn't get our food until around 11pm. Our waitress was really nice though and really busy. She kept asking us why we didn't have our food yet and we saw her run off to the kitchen to yell at somebody! We gave her a good tip. We realized that we hadn't eaten since 9am or so and decided we were never waiting that long to eat again! We bought Hard Rock souvenirs while we were waiting to be seated, so we were able to leave after we ate. We went back to the hostel and realized that the hostel wasn't in a very good area. The Metro worker who died, which caused the Metro strike (the strike was over by the time we got to Paris), died in the Metro station right across the street from Mike's Hostel.
The next day (Wed June 16), we woke up kind of early and went to the Louvre for several hours. The place is gorgeous and humongous! If you were to look at each work of art for one minute each, you would be there for 4 months! Needless to say, we only saw a tiny sliver of the Louvre. Then we went to Les Catacombs where all the people from the Plague died. There were walls upon walls of bones!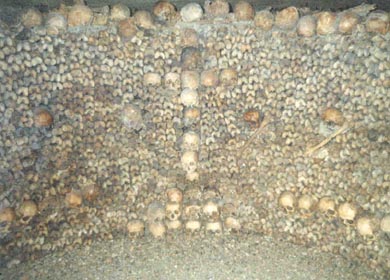 Then we went to the Eiffel Tower and went to the top of it. I guess that's all we did that day, so maybe we made it an early night.
Thursday June 17, we went to a cafe called Le Saint Amour which is right by the cemetery where Jim Morrison is buried. The menu didn't have an English translation, so we had to literally just point and find out what we got when it arrived. I thought it was kind of fun! Our waiter was named Armel, he was really cool. He spoke English so Heather was able to explain that she was a vegetarian. We had a full course meal: salad, main dish, cheese, and dessert. It was HUGE! We took our picture with Armel and he told us that we better send him a copy. Then we went back to the cemetery and got another rubbing of Jim Morrison's grave. The guard told us yes right away, then told us to hurry up. There was someone there who was able to translate for us. He explained that his shift was over in 15 minutes and we aren't allowed to do rubbings, but Heather looked nice and he thought she came all the way from America just to get a rubbing, so he let her. We took some more pictures of the cemetery, then headed off toward Notre Dame. When we were leaving Notre Dame, we were handed a flyer that advertised a Mozart Requiem for that night. So, we went back to the hostel and Heather took a nap while I tried to get tickets to London for the following morning. I had a hard time with the phones because the one in the hostel was out of order, and we were in a bad area. I finally found a payphone, but it would only accept French calling cards. Everyone was so helpful though and the lady at the hostel let me use her calling card. Whoever said the French were rude, lied, because they are the nicest people we encountered on our entire journey! Everywhere went, people helped us. I got our reservations set up to take the chunnel from Paris to London at 1pm the next day. I woke Heather up and we went to the Mozart Requiem, which was beautiful. Then we ate some crepes, went to see the Eiffel Tower at night, then back to the hostel.
Friday June 18, we took our time getting ready in the morning and checked out at noon, then walked to the train station. We arrived in London and went to the hostel we stayed at in the middle of our journey. We ate at an all-you-can-eat pizza place, then took the tube to Leicester Square. We walked around a bit and bought souvenirs. Then we went back to the hostel and went to bed.
Saturday June 19, we checked out of the hostel and into the hotel (the one that had our luggage because we stayed there at the beginning of our trip) right across the street. Our room wasn't ready yet, so we left our backpacks and went to Hyde Park and watch kids swing on swings. It started to get chilly, so we went back to the hotel to get our jackets. We decided we would ask if our room was ready yet and it was! We got to the room and Heather started going through her backpack to separate souvenirs while I took a shower. I helped her sort through the rest of our luggage when I got out. After we finished sorting, she took a shower and I packed all my stuff. Our beds were covered in receipts and booklets and souvenirs. It was crazy! We through a lot of junk (like receipts and brochures to places we didn't go to) away. Heather packed her stuff, then we both got ready for the play we had tickets for. We went back to Leicester Square and Heather had a drawing of her done. It didn't look at all like her though. The lady got the shape of her face completely wrong. While Heather was doing that, I made reservations for a restaurant called Sound Republic. The food there was yummy. It had several large screens playing anime which was really neat [Tony, you would have really liked this place]. Then we walked to the theatre and saw _Blood Brothers_ which was a play Heather has wanted to see for six years! It was great! We started a standing ovation. Two of the actors looked right at us with awe. Other people started standing up and eventually the whole room stood up. You could see the sheer happiness on the actors faces. It was really neat. They did an excellent job so they deserved it! After that we went back to the hotel and went to sleep.
The next morning, we woke up, got ready, ate our last full English breakfast (which includes baked beans and sauteed mushrooms), then hopped on the Tube to the airport and caught our plane home! Heather's boyfriend picked us up at the airport and that's that. We had the best time! My soul really needed this trip.
-Rebecca
>>>Top London-Nottingham Nottingham-Scotland-Dublin Dublin-London-Amsterdam Amsterdam-Prague-Interlaken